The evil king of Aram was out to kill the king of Israel and plunder the countryside. 2 Kings 6 Time and again he plotted where and when to attack the Israelites. Yet the king of Israel was warned each and every time and made well his escape. When the evil king was notified that Elisha the prophet was the source of the military leaks, the king sent horses and chariots along with a strong army force to get rid of the man of God.
The Arameans surrounded the city where Elisha and his servant were staying. In the early morning, Elisha's servant stepped outside to begin preparations for the day – there was the enemy army! They were all around!
The servant ran back inside and shouted at his master, "Oh no, my lord! What shall we do?"
Elisha was not concerned. "Don't worry about it," he told his servant. We have a bigger army than they do. As a puzzled servant stood there with a muddled look on his face, Elisha prayed. "Open his eyes, Lord, so that he may see."
The servant did not know what was out there. Even the enemy army did not know what was out there. Yet God had provided all that was needed – more than what was needed. They just couldn't see it.
For we live by faith, not by sight. 2 Corinthians 5:7
Now faith is being sure of what we hope for and certain of what we do not see. Hebrews 11:1
Then the Lord opened the servant's eyes, and he looked and saw the hills full of horses and chariots of fire all around Elisha. 2 Kings 6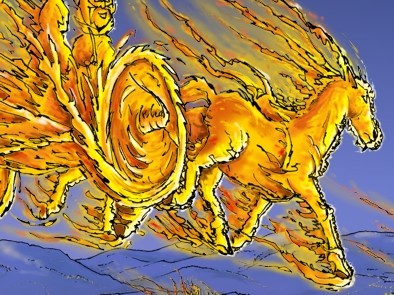 Chris Tomlin wrote a wonderful song about this "God of angel armies."
The chorus goes like this:
I know who goes before me
I know who stands behind
The God of angel armies
Is always by my side
Listen to the entire song here:
Angels are real. Angel armies are real. But most importantly, God is real. Pray and ask Him to open your eyes.